---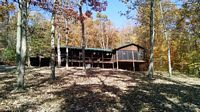 5.66 acres and rustic home in East Roane County
This private 5.66 property is rolling, wooded and abundant with wildlife. A country lover's dream, but convenient to I-40 and only 20 minutes to West Knoxville.
This East Tennessee land features a rustic white pine board 2,400 sq ft home with a 2 car garage, screened porch attached to the master bedroom, and both covered and open decks.
The home features central heat and air and city water. Taxes are county only. The driveway is concrete and there is additional parking space suitable for a boat and/or RV. See how comfortable and convenient East Tennessee land country living can be.
---
30 acre homesite with great view in Knox County
This secluded tract has creeks, paved access, utilities and location -- ready to build the perfect East Tennessee homesite. A really grand condo development could also be done here. All utilities including electricity, water, sewer, gas and TV cable are available at the front of the tract. There is over 600 feet of road frontage on a paved county road.
An elementary school is just one mile away, middle school and high school is about 3 miles away. Grocery stores, drug stores, chain stores, hardware store, restaurants, fast foods, post office, etc. are just 3 to 3.5 miles away. The main expense to develop this site to build up on the hill would be the driveway or road. There is an existing road that goes up on the hill that could be improved. If you wanted to raise your own meat or have some riding horses, there is sufficient open land that could be made into pasture to support at least a half dozen animals.
If you value your privacy and want a secluded home-site with a beautiful view, or interested in a larger development in a great location, this may be just for you!
---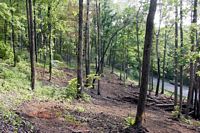 Lots with owner financing South of the River in Roane County
Affordable rural living in the desirable South-of-the-River area of Roane County, Tennessee. Owner financing available with $500 down and $100 a month at 7% interest with a land contract --great terms!
Lots 3 and 4 in the Johnson Valley Subdivision are now for sale. Singlewides are allowed.
Public water with Watts Bar Utility district is available.
---
15 acre farm or residential property near Clinton, TN
Enjoy rural and valley view on this very nice small farm and/or country residential property located 7 miles from the Anderson County Courthouse in Clinton, Tennessee. Part of property formerly owned by RC "Dudley" Hoskins.
Good restrictions are in place to protect your investment.
Ready to build -- approved for septic tanks and field lines. Utility water, natural gas, and electric available. Approximately 615 feet of road frontage on Dutch Valley Road. Convenient distance to Clinton, Oak Ridge, and Knoxville.
---
30 acre farm and rental property near Rogersville, TN in Hawkins County
This lovely farm in northeast TN has 11 acres of pasture that is fenced for livestock with a small pond. The remaining property is wooded with many deer and turkey sightings.
On the property is a wooden barn, a well house, a 30 x 50 metal building with concrete floor and attached shed. The pictures show these buildings and the interior of the 30 x 50 metal building.
A single wide Oakwood mobile home and a double wide Fleetwood mobile home. Both of these homes are rental property that are currently renting for $700 per month.
The property is very near the historic town of Rogersville, nestled in the mountains of Northeast Tennessee between Knoxville and Bristol. Gatlinburg, the Great Smoky Mountains, and Cherokee Lake, known for its fishing and camping, are all convenient.
---
Spectacular lake and mountain views in Sunset Bay community, Union County
Beautiful 1.91 acre tract in well developed Sunset Bay community with scenic view of lake and surrounding mountains. Sunset Bay is a covenant-governed waterfront community situated on pristine, unspoiled Norris Lake. It is almost entirely surrounded by the lake the Chuck Swan Wildlife Management Area.
This lot offers some of the best views in this community and comes with all the many amenities of the development. The lot has paved access and owner access to the marina with covered boat slip. City water and sewer hookups are available.
The community is located just 45 minutes northeast of Knoxville between Maynardville, the county seat of Union County, and Tazewell the county seat of Claiborne County. The lot is priced to move at well below its appraised value.
---
Lake and mountain view lot in Rock Harbor Community
This open lot has spectacular views of Norris Lake, the Great Smokies and the Cumberland Mountains.

City water and power is available and the lot is ready to build in one of the area's prime lake communities. Owners have access to Rock Harbor's many amentities, including marina with covered boat slips, putting greens, walking trails, children's playground, picnic areas, and basketball and volleyball courts.

This lot is priced to move at well below market and appraised values.
---
Five acres in Ten Mile, Meigs County
A great value on five acres with all you need to develop or use as is. Perfect for horse lovers. This beautiful property has road access, public water, and a creek and a great location in Meigs County. The property and vicinity are deed restricted.
The 36' x 48' barn has two horse stalls, storage for hay, and two drive throughs. A property survey and a soil map are available.
---
~11 acres enchanting and close to town (Sweetwater)
10.88 acres, creek front property near Madisonville and Sweetwater, TN with springs, good building sites, and seasonal views. An attractive 24' by 14' 1 1/2 story building with a front deck is included, complete with French double doors. You'll feel like you're in the middle of a forest, yet you're within 5 miles of many restaurants, the local college, the county seat, numerous stores including a Super Walmart. I-75 is a quick 7 miles away.
A build site at the end of the 800 foot driveway has a nearly new 3 bedroom rated septic tank with chamber style commercial drain fields. The property rises nearly 300 feet, with a seasonal view overlooking the Madisonville valley, with the Smokies in the distance - in other words a view as far as eye can see.
---
Seven wooded acres in view of Cherokee National Forest New Price!
This seven acre wooded property was originally part of a 319 acre farm in the lower mountain area adjoining the South portion of Cherokee national forest. This acreage is very close to the forest and its many fine recreational resources. It's also close to the Hiwassee and Ocoee Rivers, two of the most scenic rivers in the state.
There are several excellent building sites. The property has road frontage on a McMinn county road and is perfect building your own cabin or chalet.
If you are looking for privacy in a mountain setting and close access to a town (Etowah) this is the land for you. .
---
Buy the family farm: 60 acres in Campbell County
Mountain, valley and lake views and all you need to be self sufficient. Approximate 60 acres includes 21 timber, 39 pasture and cropland, with barns and outbuildings.
If you are not interested in farming just enjoy the views from various locations on this spectacular piece of property. Property is suitable for development if desired with three separate road frontages.
Move-in ready with over 2200 square foot two level all brick home with vinyl trimming that is approximately 14 years old. A one car garage, front and back porches this is a low maintenance beauty. Public utility water.
---
Land in Roane County! EastTennLand features a number of properties in Roane County. Roane County is one of the select communities to be featured on Retire Tennessee and the home of one of our original partners. Check out Retire Tennessee and also these properties offered by our friends and neighbors:
The Henley Property 5 acres on a peaceful Manor Road 7 mile south from I-40 Kingston on Highway 58
Colyer Farm 75 acres located on River Road and Farr Road 6 miles south of Kingston and I-40. Split anyway you may want it.
Holder Ford Property almost 22 acres east of Kingston mostly wooded (hard woods) and rolling terrain, Mountain view (in winter).
If you are visiting this area, consider staying at the Woodland Cove, White Stone Inn, or many other fine bed and breakfast establishments.
---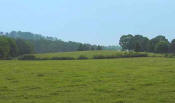 Roane County Tennessee farm and more
33.15 acre farm in Roane County has pasture, a cabin and two ponds.
Four acres in hardwoods, the remainder in pasture. This land is currently used for cattle farming but also has great potential for other development.
Located in one of East Tennessee's most desirable resident rural areas, this is a classic Tennessee farm at a great price.
---
Five+ acres lots in Bucks Pocket Area of Bradley County
This is where you want to be. Build your dream rural retreat on these secluded but very accessible five-acre lots in Southeastern Tennessee. Downtown Cleveland is only 15 miles, and so is Parksville Lake in the Cherokee National Forest. These are beautiful properties that can be enjoyed in their current timbered state or cleared for farming. Build a home almost anywhere on these very buildable lots. Deed restrictions will protect your property investment in this desirable location. Lots have road frontage or easement access. Adjacent lots can be purchased for 10 acre, 15 acre or larger tracts at excellent prices. Owner financing is available.
---
Other Links of Interest
New Homes - Reviews
New home builder reviews - An independent website. The ultimate information tool for home buyers, homeowners and builders.