The East Tennessee Land for Sale by Owner website can help you find unique properties offered by the owners of East Tennessee land. If you are already a resident of East Tennessee, you don't need an explanation of why this is one of the most desirable places in the country to live. If you would like to learn more about East Tennessee, review the information below.
Land as an investment
According to Kiplinger's Magazine ("Own your own piece of paradise", August 2007), rural land is an increasingly popular investment. Rural land in many areas has doubled in price in the last five years. Recreational property is also a great way to diversify your portfolio. Not only does it bring a good rate of return, it doubles as a private recreational escape or future retirement estate. And it may have additional qualities, like timber, energy, or hunting rights, that produce additional dividends. These resources are abundant in East Tennessee, along with agriculture, which remains one of the state's most important economic activities. Farmland and pasture land, which make up approximately 38 percent of the land in Tennessee, is increasingly being converted in residential and recreational uses, as the growing population of the US seeks escape from the stresses of urban centers and overdeveloped recreational and retirement communities. Timberland, about 45 percent of Tennessee's land, is being converted at a high rate to other uses as forest products companies divest these properties to take advantage of the current market for recreational land. These and other maps and statistics about land use can be found at the US Natural Resources Conservation Service.
The qualities of life rural Tennessee
As the South Florida Sun Sentinel reported on June 4, 2006 ("Tired of Hurricanes and High Prices, Some South Floridians Leaving for Greener Pastures"), Tennessee is one of the most popular destinations for Floridians seeking a new way of life. "I've found a piece of paradise," says a former south Floridian who found his dream property on 9-1/2 acres in rural Tennessee. He sold his Palm Beach county property for $410,000 and bought land and a house in Tennessee for $190,000. His property tax is half of what it was formerly and his house insurance is one-quarter of its former cost. Transplants are finding much more than a cheaper way of life, however. They want safer streets, smaller schools, and a family-oriented, friendlier and slower paced lifestyle, according to this report.
Climate
You don't want to buy East Tennessee land or relocate to the area before you find out about the climate. East Tennessee climate is wonderfully temperate, with four distinct seasons. The Cumberland Mountains and the Smoky Mountains moderate East Tennessee weather extremes by breaking up cold northern winds and softening hot summer winds from the south. Thunderstorms frequently break the heat on the hottest summer days. At lower elevations, precipitation is usually in the form of rain, with March typically the wettest month. In Knoxville, about 12 inches of snow falls annually, but rarely in amounts greater than four inches at time -- and it usually disappears in a few days. Temperature, heating/cooling days, precipitation and other weather and climate information for East Tennessee can be found at the Climate Zone. For serious exploration of this topic, visit the National Weather Service at Morristown.
Recreation and sports
The crown jewels of East Tennessee land are its recreational and sports opportunities. Each year millions hike and bike through the Great Smoky Mountains National Park, Cherokee National Forest, Big South Fork National River and Recreation Area, and many other East Tennessee parks. Opportunities for golf, fishing, hunting are abundant, and East Tennessee's lake and river system make it a water sports paradise for boating, kayaking, and whitewater rafting. Notable are the lifestyle and recreational benefits bestowed on the area by East Tennessee's signature land management agency, the Tennessee Valley Authority, headquartered in Knoxville.
The cities of East Tennessee
The cities of East Tennessee are among the best places to live in the U.S. Knoxville, the largest city in East Tennessee and located at its center, was ranked the best place to live in the U.S. for cities under 1 million in the Millennium Edition of the Places Rated Almanac. It's also a good place to do business. In 2006, Forbes Magazine rated the Knoxville – Oak Ridge Innovation Valley as the fifth best place in America to do business and have a career. Oak Ridge is one of the leading centers in the world for scientific and technological innovations in genetics, robotics, internet, neutron scattering, and other crafts of the future are developed in its facilities – this small city has one of the highest per capita concentrations of PhDs in the world. Chattanooga, in the southern part of the state, was named by U.S. News and World Report as "one of the best cities in the world." Johnson City, Kingston, Cleveland, Maryville, Athens, Sevierville, Gatlinburg, Pigeon Forge, Morristown, Greeneville, Kingsport, and other East Tennessee cities and towns are all unique but share the hospitality and charm that makes East Tennessee a great place to live, work, and play.
In 2009, Relocate America named two of East Tennessee's cities, Knoxville, Kingsport, and Chattanooga, in its top 100 best places to live. Knoxville was cited as a scenic city where nature and technology meet and a cultural focal point for East Tennessee. Kingsport was cited for its affordability, while offering its citizens a high quality of life in a beautiful setting. Chattanooga was selected for its culture, beauty, general economics and moderate climate across distinct four seasons. Southeast Tennessee is looking forward to strong economic growth associated with the Volkwagen's construction of its first production manufacturing plant in the US near Chattanooga in early 2011.
Low cost of living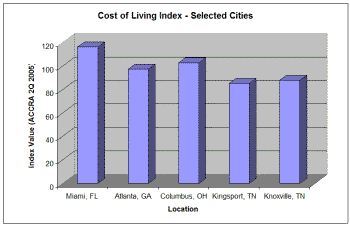 If you've researched the question, you will find that the quality of life in East Tennessee is high. But the cost of living isn't. According to CNN Money, the median house price in 2005 in Knoxville was $94,000, not half the national median of $259,000. Calculate your cost of living for Knoxville and other East Tennessee cities compared to where you live now. If you moved from Orlando, Fl to Kingston, TN, for example, groceries would cost 6.4 percent less, housing 42 percent less, utilities 10.8 percent less, transportation 11.3 percent less, and health care 15.5 percent less.
Resources for more information
Other resources for relocating to East Tennessee can be found on the Discover East Tennessee.org, one of the best portals to East Tennessee land for sale and other resources. This well organized and long-standing directory helps you quickly find property for sale, area events, community resources, businesses, government agencies, churches, and educational resources. The Knoxville Tennessee section of the City-Data.com forum records the experiences of those who have relocated to East Tennessee, or questions from those thinking about it.
The State of Tennessee Official Relocation Guide and the Tennessee Communities Guide provides detailed county-specific information about government, education, employment and other things you may need or what to know before you become a Tennessee land owner.
You can also review our Tennessee Land Buying Guide for resources about regulations, maps, and other information related to the buying of land and building of structures in Tennessee. Our other websites page has several sites that sell Tennessee land (but check our listings first).
* * *
home - links - contact us - buying guide
EastTennLand.com presents information provided by the land owner that is assumed to be correct but is not independently verified. It does not warranty the accuracy of this information or assume any other liability associated with the use of this information. Listings on EastTennland.com are placed and controlled by the owner of the property and may not placed on other websites without direct permission of the owner.
Copyright EastTennLand.com ©